Richard (1930-2015) and Esther (1934-2022) Brownalenoir
LaVerle Carrington (1930-2018)
Sandy Ferguson
Rev. Diana Williams
---
<!==pictures 0.75 ratio, 200 x 267 pixels==!>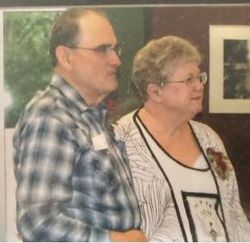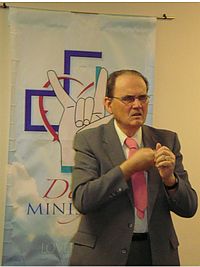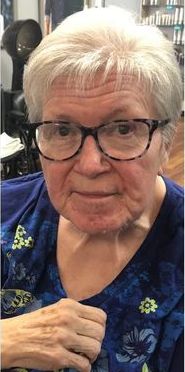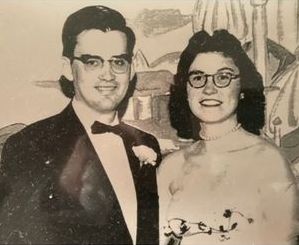 Richard Brownalenoir: Charles Richard Brownalenoir of San Marcos, Texas, passed away after a hard-fought battle with colon cancer on July 22, 2015. His loving wife, Esther, was by his side singing songs and praying with him to the end. He was born Charles Richard Brown on October 6, 1930, to Charles Richard Brown and Eva Drum Brown at their home in Charlotte, North Carolina. He graduated from the North Carolina School for the Deaf and went on to Gallaudet College where he received his Bachelor of Arts in Architectural Engineering and was valedictorian of his graduating class in 1956.
Richard met the love of his life, Esther Marilyn Dixon, at Gallaudet College. The two married in 1957 shortly after Esther graduated from college.
Richard was ordained a deacon in the Methodist Episcopal Church in 1964 and continued to dedicate his life to sharing God's words with the Deaf community. While ministering to the Deaf, Richard also maintained an active career as an architect with firms in North Carolina, Wisconsin, and Texas. Richard served as the first board president of Lovers Lane Academy for the Deaf.
Richard's love of history and his roots in North Carolina, led him to legally change his name later in life to Brownalenoir in honor of Lenoir county, where he was born.

Esther Dixon Brownalenoir, born in Lansing MI, on August 09, 1934, died at age 87 on Monday, February 01, 2022, while under hospice care at the Bastrop Nursing Center in Bastrop, TX.
She was born to Emerald B. Dixon, a Methodist minister, and Ruby Jarvis. She was the youngest of three children. Her sister, Carol Beth Dixon Eby, was 16 and her brother, Philip Jarvis Dixon, was 9 when Esther was born.
Esther always loved music and her parents thought she day-dreamed often. In 1942, when Esther was 8, Esther's parents moved to Flint, across the street from the Michigan State School for the Deaf. While Esther was outside playing with neighborhood children, a neighbor told her parents he thought that Esther acted like the children at the School for the Deaf. Esther's parents called her over from where she was playing and gave her the ultimate child test. They turned her around and asked "Esther, would you like some candy?" and received no response. When they turned her back around to face them and asked the same question, Esther immediately responded "Oh yes please!" That is when they knew that little Esther was Deaf.
Esther attended the Michigan State School for the Deaf in Flint and Pontiac Senior High School in Pontiac. While attending Pontiac Central / Senior High School in Pontiac MI, Esther's photo was featured on a national publication for an article about a new piece of technology — the hearing aid. In the picture (although you can't see it) Esther is wearing a battery for her hearing aid that is strapped to her thigh. The length of the battery goes from the top of her thigh to her knee. The remainder of the hearing aid apparatus is strapped to her chest.
Esther graduated from Gallaudet University in 1957 as the Salutatorian for her class. While at Gallaudet, at a Sadie Hawkins Day event, Esther met Richard. Neither of them truly wanted to participate but were urged on by their friends. Esther waited with her eyes covered at the starting line long after the other girls had run off. Uncovering her eyes, she saw a young man up against a tree, with his back towards her, watching the antics of his fellow students. Esther walked up to the young man, tapped him on the shoulder, and thus met the man who was to become her husband, C. Richard Brown, Jr. On their first date, Richard took Esther to see the movie "From Here to Eternity."
Esther married Richard on May 28, 1957, shortly after graduating from Gallaudet University. In 1958, they moved to Charlotte NC (the town where Richard was born). Esther and Richard were very active in the NC Conference of the Methodist Church. This led Richard to become an ordained minister and to lead the area's Deaf Methodist church. The couple moved from North Carolina to Wisconsin in 1966, where Esther taught art at the Wisconsin School for the Deaf and they continued their Deaf Ministry at Delavan United Methodist Church. In 1972, Esther and Richard moved to Houston, Texas. Esther continued her career as a Special Education teacher for the Houston and Baytown Independent School Districts. While living in and around the Houston area, she and Richard were both very active in various Deaf Ministries.
In 1982, after becoming very interested in family genealogy, Esther and Richard legally changed their last name from Brown to Brownalenoir — celebrating the place where Richard's branch of the Brown family settled in America.
In 2004, Esther and Richard moved to the Dallas area and became members of Lovers Lane United Methodist Church on September 19, 2004. Esther helped to lead the Deaf Ministry at the. Whatever the Deaf ministry did, she would be there to support, guide and pray. Esther and her husband, Richard, were long-term active members and leaders of the United Methodist Congress of the Deaf.
Left to honor Esther are her four children, Suzanne (Angus) Booth, Rachel Bailey, Greg (Roxane) Brown, and Wesley (Yolanda) Brownalenoir. Her grandchildren are Michelle Elmer, Jennifer Adams, Aimee Adams, Jason Brown, Christopher Brown, and Ashton Brownalenoir.
A private memorial service for immediate family will be held at Lovers Lane United Methodist Church, followed by the internment of Esther's ashes next to her beloved husband Richard, on Thursday, February 17, 2022. A public memorial service will be held at a later date.
Donations to the Deaf ministries at Lovers Lane United Methodist Church (9200 Inwood Rd, Dallas, Texas 75220) will be gratefully accepted.

---
LaVerle Carrington was an active member, supporter and leader of the United Methodist Congress of the Deaf from its inception in 1973. He served the Oklahoma Conference Ministry with the Deaf for several years in the 1970's and early 1980's. He later grew Deaf ministries in the Great Rivers Annual Conference in central Illinois, which led to his hosting of the 1995 UMCD conference in Jacksonville, Illinois. LaVerle was also the head translator for a team that translated the 1989 United Methodist Hymnal into an ASL-gloss resource aid for interpreters translating hymns for worship. Titled, "Hymns for Signing," this resource aid was published in 1995 and continues to be used to this day, the royalties of which have benefited the Endowment Fund of the United Methodist Congress of the Deaf. Upon learning of LaVerle's death, Bishop Peggy Johnson of the Eastern Pennsylvania and Peninsula-Delaware Annual Conferences and former colleague in Deaf ministry, remarked "His death marks the passing of a great generation of Deaf ministry." The UMCD extends its sympathies to the Carrington family. More information.

---
<!==pictures 0.75 ratio, 200 x 267 pixels==!>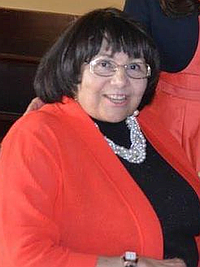 <
Sandy Ferguson was known as a strong advocate and ally for Deaf Ministries in the Baltimore-Washington Conference. She served on staff at the mission center for many years. She advocated for funds to be approved for Deaf Ministries that supported pastor salaries at Christ Church and Magothy, as well as funding support for the Deaf Shalom Zone coordinator. Sandy will be remembered for many things, especially for social justice.
In loving memory of Ms. Sandra Ferguson
We the Deaf, Hard of Hearing. and Disability communities of the Baltimore- Washington Conference of the United Methodist Church extend our deepest condolences to the family of Ms. Sandra Ferguson at the time of her passing.
Whereas Sandy demonstrated throughout her life a sincere and obedient walk with God through faithful ministry in the church and promoted inclusion and justice ministries wherever she served.
Whereas Sandy was a faithful staff member of the Baltimore-Washington Annual Conference and promoted Deaf, Hard of Hearing, and Disability ministries in many ways: supported the ministries of the Deaf churches, helped to establish the Deaf Shalom Zone, supported the Deaf ministries in Kenya and Zimbabwe, supported the Deaf and Deaf Blind Camps, supported the training events at the conference as well as the connectional church, supported the inclusion of people with disabilities in all conference committees and work areas, supported the presence of people with disabilities in the sessions of annual conference, and personally attended many events that were hosted by the Deaf, Hard of Hearing and Disability committees and churches.
Whereas her passing brings tears and sadness, we are encouraged and consoled by the words of our God who said, "I will never leave you nor forsake you,"
Therefore, be it resolved that we embrace the memory of Ms. Sandra Ferguson and pray for the tender mercies of the Lord to comfort her family. We are reminded of the promises of eternal life and the "peace that passes understanding" that will be theirs at this time.
Memorial Page

---
<!==pictures 0.75 ratio, 200 x 267 pixels==!>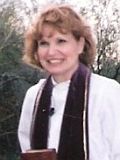 Rev. Diana Williams
---