Carolyn Williamson Bahm (1932-2022)
Richard (1930-2015) and Esther (1934-2022) Brownalenoir
Vonna DeLong (1935-2023)
Sheila Frances Finn (1942-2021)
Nancy A. Gerhart (1937-2022)
Rev. Ann Elizabeth Geer (1938-2022)
Kristi Jan Greenawalt Johnson (1948-2021)
Phyllis M. Kuykendall (1925-2021)
Gwendolyn Maxine Mix (1924-2020)
Carolyn Rowland (1943-2022)
Renae Marie Thomson-Hohl (1961-2020)
Edward Melvin Tilton (1945-2022)
Robert Walker (1931-2022)
Lorene Joyce Evans Wolf (1933-2020)
Leo Yates Sr. (1920-2019)
---
<!==pictures 0.75 ratio, 200 x 267 pixels==!>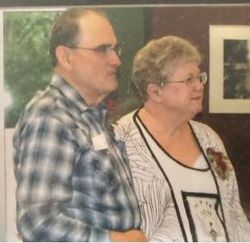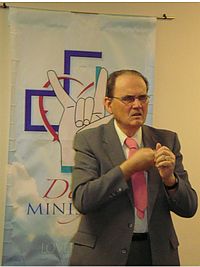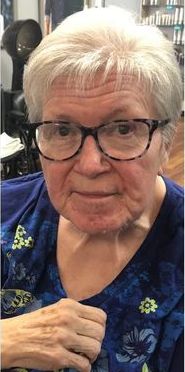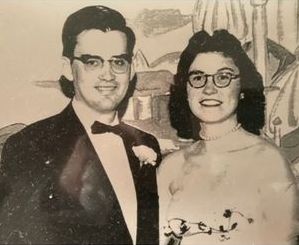 Richard Brownalenoir: Charles Richard Brownalenoir of San Marcos, Texas, passed away after a hard-fought battle with colon cancer on July 22, 2015. His loving wife, Esther, was by his side singing songs and praying with him to the end. He was born Charles Richard Brown on October 6, 1930, to Charles Richard Brown and Eva Drum Brown at their home in Charlotte, North Carolina. He graduated from the North Carolina School for the Deaf and went on to Gallaudet College where he received his Bachelor of Arts in Architectural Engineering and was valedictorian of his graduating class in 1956.
Richard met the love of his life, Esther Marilyn Dixon, at Gallaudet College. The two married in 1957 shortly after Esther graduated from college.
Richard was ordained a deacon in the Methodist Episcopal Church in 1964 and continued to dedicate his life to sharing God's words with the Deaf community. While ministering to the Deaf, Richard also maintained an active career as an architect with firms in North Carolina, Wisconsin, and Texas. Richard served as the first board president of Lovers Lane Academy for the Deaf.
Richard's love of history and his roots in North Carolina, led him to legally change his name later in life to Brownalenoir in honor of Lenoir county, where he was born.

Esther Dixon Brownalenoir, born in Lansing MI, on August 09, 1934, died at age 87 on Monday, February 01, 2022, while under hospice care at the Bastrop Nursing Center in Bastrop, TX.
She was born to Emerald B. Dixon, a Methodist minister, and Ruby Jarvis. She was the youngest of three children. Her sister, Carol Beth Dixon Eby, was 16 and her brother, Philip Jarvis Dixon, was 9 when Esther was born.
Esther always loved music and her parents thought she day-dreamed often. In 1942, when Esther was 8, Esther's parents moved to Flint, across the street from the Michigan State School for the Deaf. While Esther was outside playing with neighborhood children, a neighbor told her parents he thought that Esther acted like the children at the School for the Deaf. Esther's parents called her over from where she was playing and gave her the ultimate child test. They turned her around and asked "Esther, would you like some candy?" and received no response. When they turned her back around to face them and asked the same question, Esther immediately responded "Oh yes please!" That is when they knew that little Esther was Deaf.
Esther attended the Michigan State School for the Deaf in Flint and Pontiac Senior High School in Pontiac. While attending Pontiac Central / Senior High School in Pontiac MI, Esther's photo was featured on a national publication for an article about a new piece of technology — the hearing aid. In the picture (although you can't see it) Esther is wearing a battery for her hearing aid that is strapped to her thigh. The length of the battery goes from the top of her thigh to her knee. The remainder of the hearing aid apparatus is strapped to her chest.
Esther graduated from Gallaudet University in 1957 as the Salutatorian for her class. While at Gallaudet, at a Sadie Hawkins Day event, Esther met Richard. Neither of them truly wanted to participate but were urged on by their friends. Esther waited with her eyes covered at the starting line long after the other girls had run off. Uncovering her eyes, she saw a young man up against a tree, with his back towards her, watching the antics of his fellow students. Esther walked up to the young man, tapped him on the shoulder, and thus met the man who was to become her husband, C. Richard Brown, Jr. On their first date, Richard took Esther to see the movie "From Here to Eternity."
Esther married Richard on May 28, 1957, shortly after graduating from Gallaudet University. In 1958, they moved to Charlotte NC (the town where Richard was born). Esther and Richard were very active in the NC Conference of the Methodist Church. This led Richard to become an ordained minister and to lead the area's Deaf Methodist church. The couple moved from North Carolina to Wisconsin in 1966, where Esther taught art at the Wisconsin School for the Deaf and they continued their Deaf Ministry at Delavan United Methodist Church. In 1972, Esther and Richard moved to Houston, Texas. Esther continued her career as a Special Education teacher for the Houston and Baytown Independent School Districts. While living in and around the Houston area, she and Richard were both very active in various Deaf Ministries.
In 1982, after becoming very interested in family genealogy, Esther and Richard legally changed their last name from Brown to Brownalenoir — celebrating the place where Richard's branch of the Brown family settled in America.
In 2004, Esther and Richard moved to the Dallas area and became members of Lovers Lane United Methodist Church on September 19, 2004. Esther helped to lead the Deaf Ministry at the. Whatever the Deaf ministry did, she would be there to support, guide and pray. Esther and her husband, Richard, were long-term active members and leaders of the United Methodist Congress of the Deaf.
Left to honor Esther are her four children, Suzanne (Angus) Booth, Rachel Bailey, Greg (Roxane) Brown, and Wesley (Yolanda) Brownalenoir. Her grandchildren are Michelle Elmer, Jennifer Adams, Aimee Adams, Jason Brown, Christopher Brown, and Ashton Brownalenoir.
A private memorial service for immediate family will be held at Lovers Lane United Methodist Church, followed by the internment of Esther's ashes next to her beloved husband Richard, on Thursday, February 17, 2022. A public memorial service will be held at a later date.
Donations to the Deaf ministries at Lovers Lane United Methodist Church (9200 Inwood Rd, Dallas, Texas 75220) will be gratefully accepted.

---
Vonna DeLong was the seventh person to receive a cochlear implant and the first to successfully use a telephone after the surgery. She was a tireless advocate for those with hearing loss, and known for her promotion of service dogs, and mission work in Texas and Minnesota.
Memorial Page

---
<!==pictures 0.75 ratio, 200 x 267 pixels==!>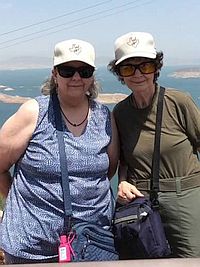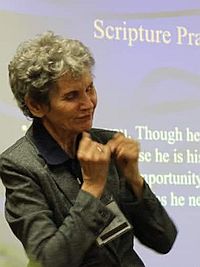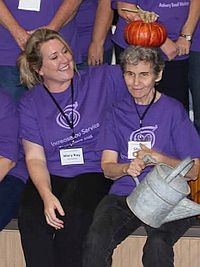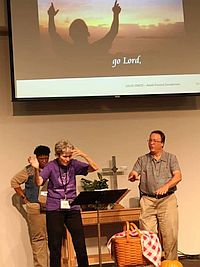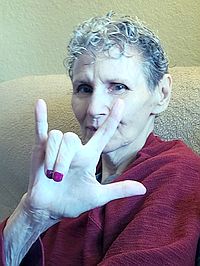 Sheila Frances Finn, a longtime member of the United Methodist Congress of the Deaf (UMCD) and South-Central Jurisdiction of UMCD died on Sunday morning, August 22, 2021 in Tulsa, Oklahoma. Sheila was active in the Deaf ministry at Boston Avenue UMC and later Asbury UMC, Tulsa for many years. She regaled generations of Deaf and hearing friends of the Deaf with her creative ASL storytelling. Sheila served on several Deaf mission teams, including Hurricane Ike recovery in Santa Fe, Texas, Deaf mission work in Belize. Later on, teams remarked that Sheila's presence was felt among her friends at UMCD, even when not physically present.
Sheila was born June 16, 1942, Sarcoxie, Missouri and graduated from Texas School for the Deaf, Austin, Texas in 1963. She was proceeded in death by her late daughter Tina Thompson-Henson. She is survived by her son Kevin Thompson, his wife Sherry and two children, her son-in law Tim Henson and two children. Due to COVID protocols, there will be no public memorial service. Her remains will be cremated.

Remembrances


Sheila's enjoyed mission trips as well as our Evangelical Lutheran United Methodist (ELM) gatherings. She was great at connecting people and connecting with people across the denominational difference to let those meetings be more truly an ecumenical partnership. She had gift for making us laugh even when we were particularly stressed out! — Rev. Dr. Kirk VanGilder, past president UMCD and Associate Professor of Religion, Department of History, Philosophy, Religion, and Sociology, Gallaudet University, Washington, D.C.

I first met Sheila during my 1989-90 internship with the Oklahoma Conference Ministry with the Deaf. At my first Deaf Christmas party, held at Boston Avenue UMC in Tulsa, Oklahoma, she gave me my sign name, which helped secure my place in Deaf communities. Sheila was always supportive of my ministry with the Deaf, and she participated and led in a variety of Deaf ministry events and missions over the years. She enjoyed giving a Christian witness through putting people at ease and deepening the understanding of ASL among newcomers to ASL. — Rev. Dr. Thomas H. Hudspeth, past president UMCD, consultant for the United Methodist Committee on Deaf and Hard of Hearing Ministries, and Pastor of the Deaf, Lovers Lane UMC, Dallas, Texas.
---
---
<!==pictures 0.75 ratio, 200 x 267 pixels==!>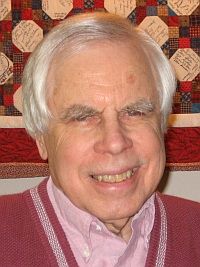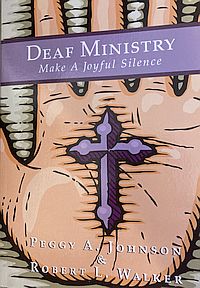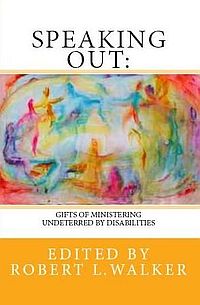 Rev. Robert (Bob) Leroy Walker: November 26, 1931 - January 6, 2022
"Bob" and his wife, Mardy (-July 2003), served in the Cal-Nevada Conference and then Pacific Northwest Conference. A fierce champion of justice, he worked with DHM, DMC, AMD. He was one of the first members of the Deaf and Hard-of-hearing Committee (2001-2009).
---
I was blessed (and challenged) to work with Bob on the Speaking Out book project for the Association of Ministers with Disabilities. His dedication to the project was a glimpse to his overall commitment to changing hearts about persons with disabilities. Though Bob had hearing loss and vision loss, his perseverance and passion really stood out to me during our work together. He was also instrumental in Breaking the Sound Barrier document for DHM, as well as supporting churches to remove barriers for persons who are hard of hearing and late-deafened. I am grateful to Bob for his friendship and his early work on the Deaf and Hard of Hearing Ministries Committee. He will always be remembered.
—Rev. Leo Yates, Jr.
---
The Apostle Paul wrote to the church in Philippi, "I thank my God every time I remember you" (Philippians 1:3). I say that about Rev. Robert Walker. I give thanks to God for his witness and grace-filled ministry in the United Methodist Church, especially in the area of Deaf and Hard-of-Hearing and Deaf-Blind ministry. I first met him through a video that showcased the lives of UM pastors with disabilities and I made it my business to meet this amazingly talented pastor who was also hard of hearing and had low vision. He excelled in pastoral ministry and served as the chair of the Board of Ordained Ministry for his annual conference among other things. When I wrote my story about Deaf Ministry in 2006 he wrote a compelling companion study guide that went along with the book and it was used by many churches. He was so supportive of me when I was elected bishop and kept sending encouraging words of grace my way. Rev. Walker was also a fearless advocate for social justice and ministry for all, including the LGBTQIA community. I remember with fondness his wonderful wife, Mardy, who was the love of his life and partner in ministry. They had a loving and supportive family. Mardy passed several years ago and I know that it must be a joy for the two of them to be together again in Glory. We thank God for you, Pastor Bob, and as we do, we strive to carry on the torch of the light of Christ that you so ably shined among us.
—Bishop Peggy A. Johnson, retired
---
Working with Bob on the Speaking Out project for the AMD was a journey of learning about just about everything, and most of all, a journey of self-discovery, as we discussed the events of my life, how they reflected social attitudes toward people with disabilities, and where the church's own actions and inactions fit in.
—Tim Vermande, webmaster, retired professor of religious studies
---
He will indeed be missed. Working with him on the project was a new experience for me. He was a patient guide.
—Cheryl Magrini
---
I enjoyed working with Bob on my Speaking Out contribution. As an editor, his clarity blew me away!
—Donna Fado Ivery
---
Bob was a real fighter and advocate.
—Carol Stevens
---
Robert was a good and faithful servant and in addition to our work on the committee and the publications he spearheaded, we became friends through the internet as I would relay events of general conferences to him via what I was seeing from friends on social media. His life after Mardy died was a more difficult road for him to navigate but he continued to serve the church he loved. They are reunited again in paradise.
—Kirk Van Gilder
---
He was, indeed, a wonderful man and gifted servant in the UMC.
—Nancy Webb
---
Bob was a tremendous force for good.
—Brian Burch
---
Bob was pivotal in my initiation into disability ministry in the Pacific Northwest annual conference and denominationally. I was blessed to call him mentor and friend. I valued his wisdom and insights, and treasured the emails he wrote to me as he patiently educated me and encouraged my call to this ministry.
—Lynn Swedberg
---
He was one who advocated for justice for persons, not just with hearing loss, but for persons with disabilities as well.
—Rev. Dr. Tom Hudspeth
---
LaSander Saunders, the vice-president of the Deaf and Hard-of-Hearing Ministries Committee, shared her gratitude for Bob's early leadership in the area of Deaf ministries.
---
Bob inspired others in our shared work, and he will be remembered. He was a strong proponent for persons who were losing their hearing later in life.
—William (Billy) Deters, President of United Methodist Congress of the Deaf

---
<!==pictures 0.75 ratio, 200 x 267 pixels==!>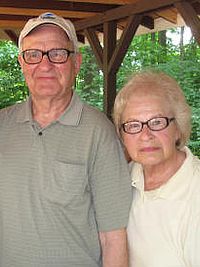 Leo Yates, Sr.: July 18, 1920 - October 3, 2019
A Life of Integrity— Few people have impressed me more than Leo Yates, Sr. I met him and his wife, Betty years ago when I served as the pastor of the Christ UMC of the Deaf. They were members of the Washington UMC of the Deaf and they served on all the committees and brought their twins: Leo, Jr. and Sarah with them. I would see the Yates family at annual conference Deaf gatherings and United Methodist Congress of the Deaf national meetings. Leo was a professional, a well-educated man, a volunteer to many organizations, and a true-hearted Christian. He was devoted to his Lord, his family and his church. Later when the Washington UMC of the Deaf closed he remained faithful to other churches, always giving, always helping, always encouraging.
My favorite memory of Leo Yates, Sr. was his help with the children's Deaf Camp that I began back in 1989 at West River Camping and Retreat Center, near Annapolis, MD. He and Betty would faithfully volunteer a full week at the camp, giving these Deaf children much-needed Deaf role models. Deaf Camp was not for the faint-hearted. The children were often rambunctious and there were plenty of temper tantrums. But none of this ever seemed to fluster Leo. He would remain an un-anxious presence through it all. Even the most disruptive child would not bother him. He would say "that child is very active." I would say to myself "that child is working my last nerve."
I would assign to Betty and Leo the task of doing "triage" with the most challenging campers. They would follow around the "misbehaver""and redirect them into activities that were positive. One child was so transformed by this mentoring that Leo persuaded him to climb "The Wall" (a structure with a safety harness). I will never forget the look on that child's face when he finally got to the top. Leo helped many young people reach to the height of their potential.
Leo generously donated not only his time to that camp but also his money and that helped the camp to continue on through the years long after I left the position. He even instigated an anniversary celebration for the Deaf camp, giving all the credit to others, but not himself. The world is a poorer place without Leo Yates, Sr. I will always remember his smile, his warm conversations and his heart of gold. He taught the world what it means to be a Christian and how to serve with grace and humility.
—Bishop Peggy Johnson
Read more
---