Ghana
August 2020
Special Report from Collins Prempeh: I have received some updates from Mr. Elvis, leader of the Deaf ministry from the Sefwi Wiawso branch (Ghana). He said that the Deaf ministry at the Sefwi wiawso branch is growing. They enjoyed watching the Deaf Bible sign language when it was projected. [Note the Deaf Ministry of Lovers Lane donated a projector to the Deaf Church in Sefwi Wiaso].
I have also received some updates from Mr. Enoch, leader of the Deaf ministry from the Tepa branch He said that some members in Tepa community don't attend church service on Sunday because of the pandemic and others too do not come to church at all because they say life isn't easy at all.
I have a friend called Costa N. Cristovao from Angola and he is a student at Africa University in theology, doing Bachelor of Divinity, in his fourth year. He is a pastor and member of the UMC in Angola. He is now improving on sign language. He told me that there is no school for Deaf and church in his conference which is the Eastern Angola Conference of the UMC. That makes his first reason to learn sign language, which will allow him When he returns home, to start a school for the Deaf and new ministry with Deaf in Angola specifically eastern part of Angola.
December 2019
From Collins Prempeh: The Deaf congregation from Sefwi Wiawso, Ghana is delighted to receive the compact projector donated by Lovers Lane United Methodist Church.
We thank you and God bless you.
(The Lovers Lane Deaf Fellowship bought and sent a compact video projector to the Methodist Deaf church in Sefwi Wiaso, Ghana. They needed a compact video projector to show translations of the bible in Ghanaian sign language. A couple of years ago, Collins Prempeh helped start this Deaf church as part of the Methodist Church of Ghana. The video projector was delivered by a missionary of the Deaf, Jason Hopkins, who is a sign language translation consultant for Wycliffe Bible translators. Jason had been in the USA when he and Tom Hudspeth were corresponding about Jason's return to Ghana and delivering the projector to Collins. Jason and Collins had been part of a Ghanaian sign language translation team for DOOR in Nairobi, Kenya where they worked as a team to translate New Testament stories into GSL versions on video. Tom Hudspeth met Collins for the first time during the 3rd Global Methodist Missions conference of the Deaf in Nairobi, Kenya in 2013.)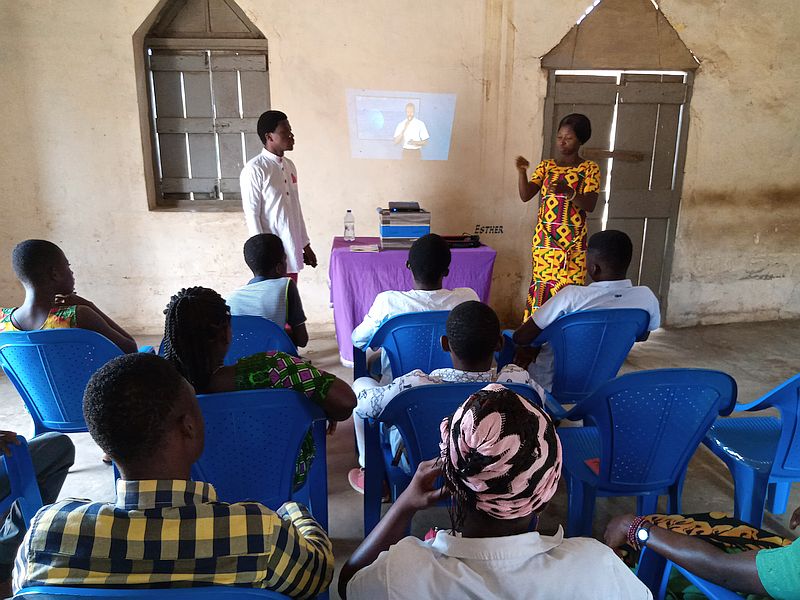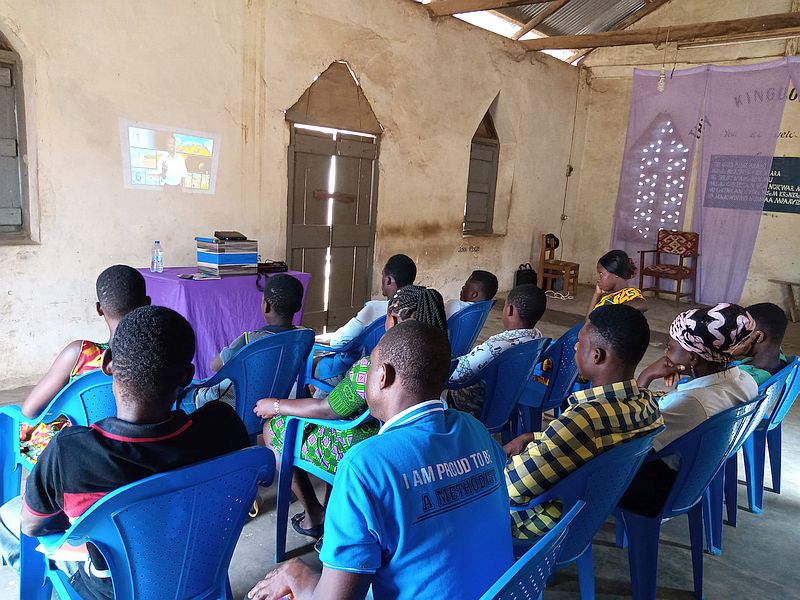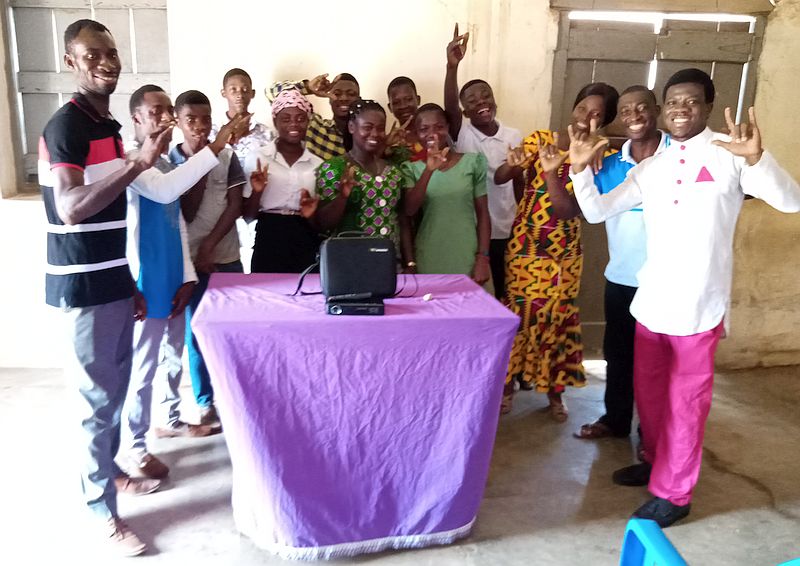 August 2019
From Collins Prempeh: the deaf congregation at Tepa was happy to receive a visit from the bishop, who encouraged my attendance at the theological school in Zimbabwe. Seated in the first row: left to right, Rev. Fredrick Assam, bishop Rt. Rev. Christopher Andam, and Very. Rev. Acheampong Kwaku Adusel.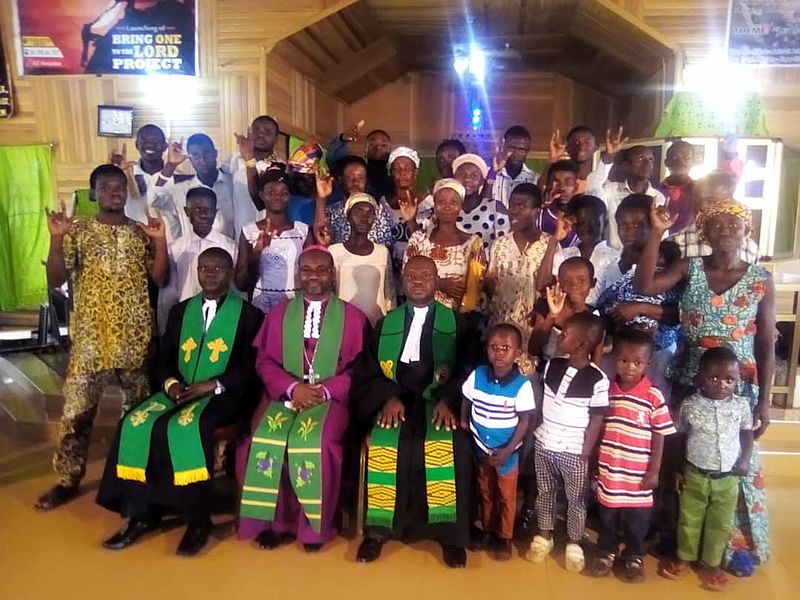 Easter 2019
We the Deaf are Happy during this Easter Sunday service at Sefwi Wiawso, Ghana.
Indeed, Christ has risen.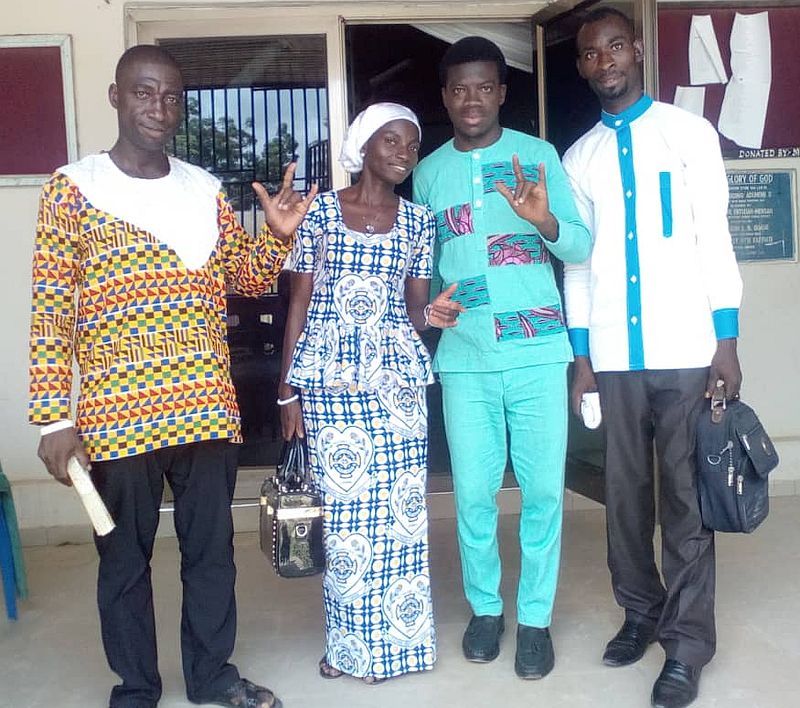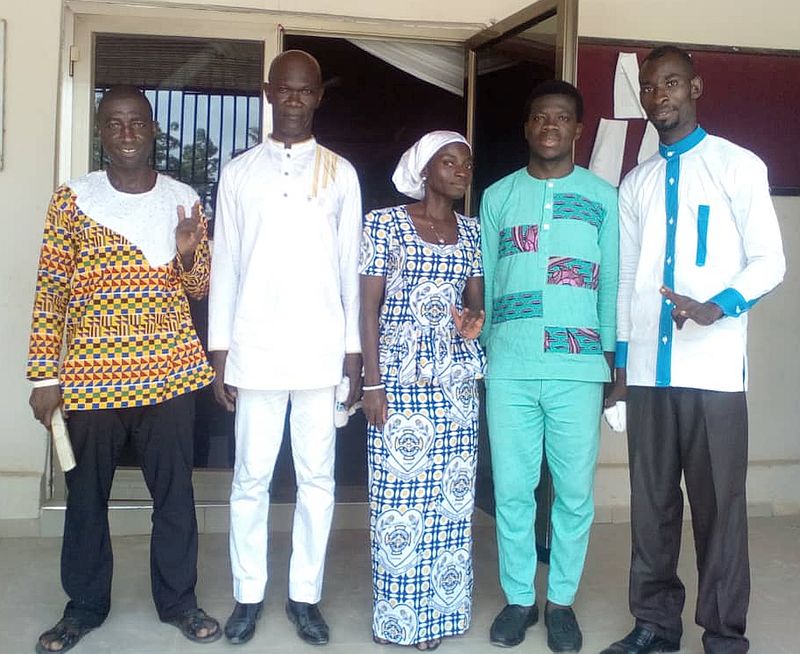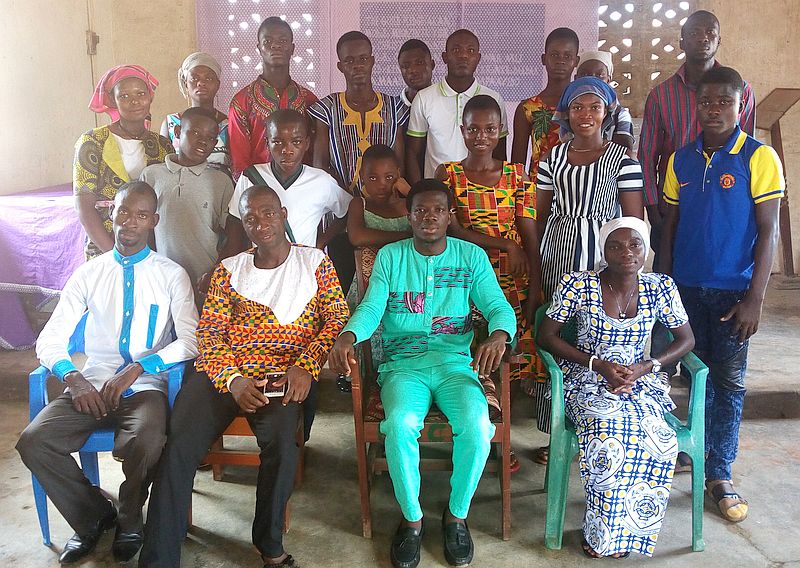 February 2019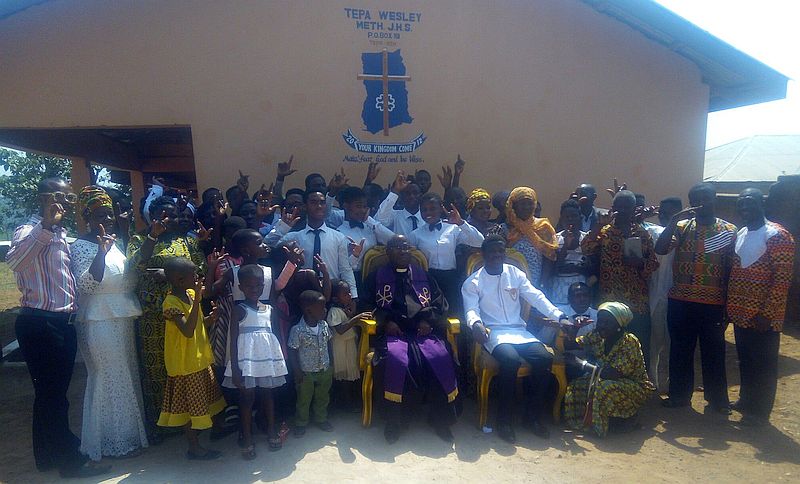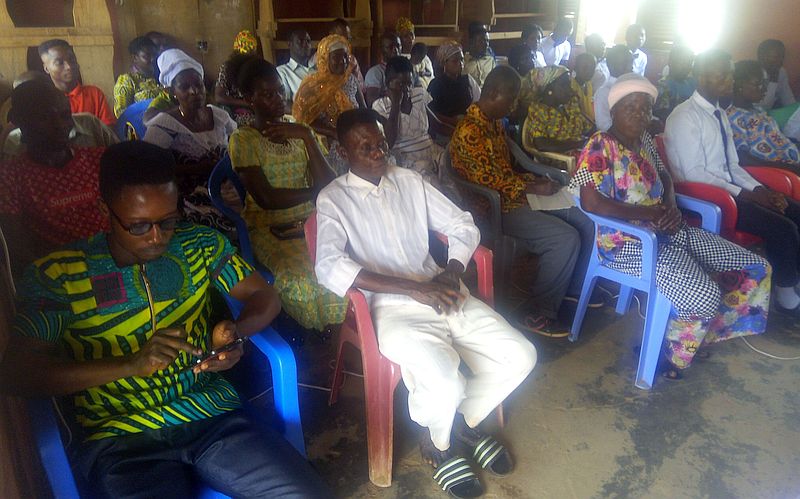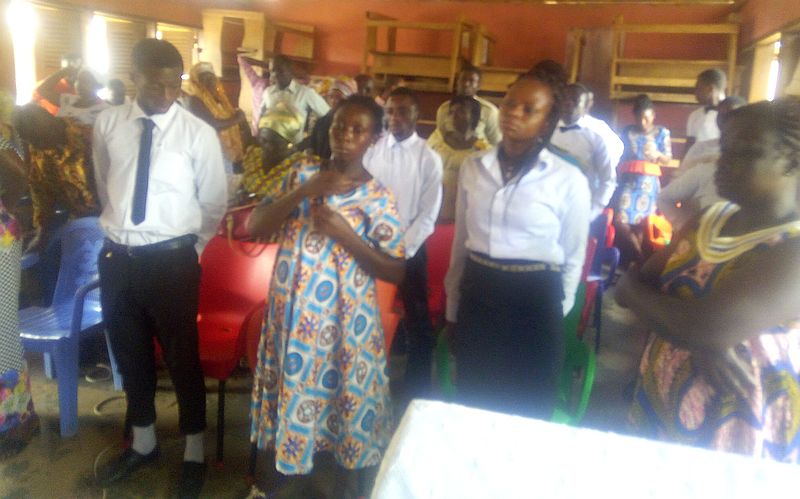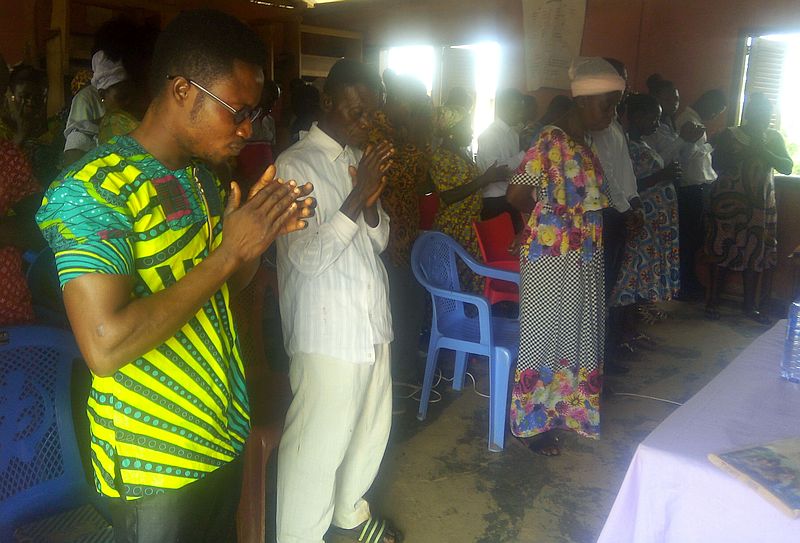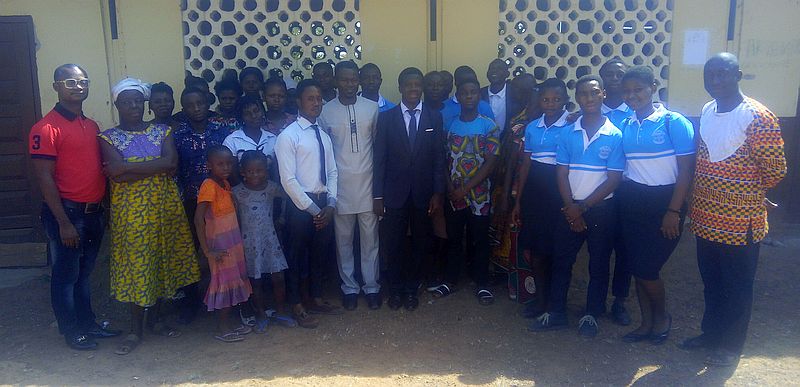 ---